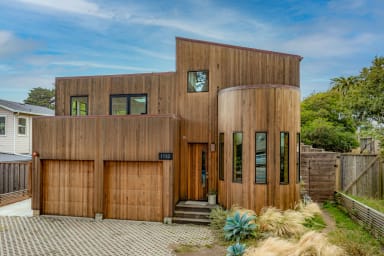 Modern indoor-outdoor living w/Hot Tub – Walk to Beaches & Mountain Trails
House in Montara, San Francisco
---
10

People

4

Bedrooms

3

Bathrooms

2847ft²
Surrounded by peace and quiet this indoor-outdoor living modern beach home by-the-Sea is the perfect getaway for everyone
Surrounded by peace and quiet this indoor-outdoor living modern beach home by-the-Sea is the perfect getaway for family vacations, travelers to the Bay Area, San Francisco, Half Moon Bay, Pescadero, and company retreats or off-site meetings looking for a prestigious location surrounded by Pacific Ocean air, pristine untouched nature and just a short drive away from so many activities. The home is a modern sea ranch style four bedroom three bath home with hot tub, with hand made doors and barrel vault, walnut stairs and heated concrete and Douglas fir floors. All exclusive to the guests and conveniently next to one of the largest undeveloped pieces of land in the area. Easy access to miles of pristine golden sand beaches, trails traversing a variety of natural surroundings with Pacific Ocean vistas on one side and some of California's most amazing coastal views on the other. Between the Montara Mountains and Montara State Beach there is over 10,000 acres of open space to roam. Everything in Montara is within walking or biking distance. Wake up to the fresh ocean air and sight and sounds of the Pacific Ocean roaring in the background. Experience the awe-inspiring views of the sun rise over the majestic mountains filled with coastal cypress trees and rare grasslands. Gas barbecue or relax on the homes deck while you take in the ocean, sunset, beach, and mountain views. One can venture on bike or hike from the house to the Golden Gate National Recreation Area, McNee Ranch State Park and Old San Pedro Mountain Road all the way to Gray Whale Cove State Beach and around Rancho Corral de Tierra.
HOUSE AMENITIES
• Entire private home
• The property is two stories with four bedrooms and three baths.
• Owner suite has a luxurious shower, bath and king size bed.
• Under the Sea bedroom has two double beds & one single bed.
• The second bedroom has a king size bed.
• The third bedroom has a two double beds.
• The fourth bedroom located on the ground floor has a queen bed.
• Open Dining Room area
• Full well stocked kitchen
• High-end kitchen appliances
• Amazing Cedar Hot Tub
• Gas Barbecue while you relax indoor or outdoor
• Internet Streaming TV
• Premium High Speed Reliable WiFi
• Private Garage Parking
• EV charger
• Washer & Dryer
• Uber is Easy and Convenient
• Free Private Parking
LOCAL AMENITIES
• Beaches are open for guest staying at the house along with local open spaces and trails.
• Local restaurants are open, offering take-out and have open patio dining.
• Quick walk to explore the golden sand and stunning sculpted sandstone cliffs at Montara State Beach.
• Easily access the amazing trails in the Golden Gate National Recreation Area & McNee Ranch State Park. Explore the trails to Ocean View Farms a small horse boarding facility situated on the picturesque 4200 acre Rancho Corral de Tierra overlooking the Pacific ocean or Devil's Slide Trail a 1.3-mile multi-use trail, converted from a former segment of Highway 1, that gives hikers, runners, bicyclists and equestrians access the rocky heights of Devil's Slide above the Pacific Ocean.
• Beaches, Surfing, Biking, Hiking trails & Grocery Stores all nearby.
• Watch Surfers, Whales, and Marine life at the Montara State Marine Reserve
• Point Montara Lighthouse is nearby.
• Visit the Alpacas by The Sea in Montara
• Giant Redwoods nearby at Purisima Creek Redwoods Preserve
• World-class golf nearby at the Half Moon Bay Golf Links
• Guided horseback riding right on the beach
• Close to Half Moon Bay, San Francisco, and SFO International Airport
• Uber & Lyft is easy and convenient
PETS: Pets are not allowed on the property.
CERTIFIED PROFESSIONAL CLEANING : The Modern indoor-outdoor living enhanced professional cleaning and sanitation process has been certified to minimize the spread of harmful pathogens. Our cleaners have expert-backed training on disinfecting, PPE, and current cleaning protocols. The property has received a cleaning certificate and I.D. which provides guests with verification that our properties are up to date on critical cleaning method guidelines from WHO, CDC, OSHA, and the FDA. #p1p211dh
Copyright © The Wave Houses. All rights reserved.
+ More
Less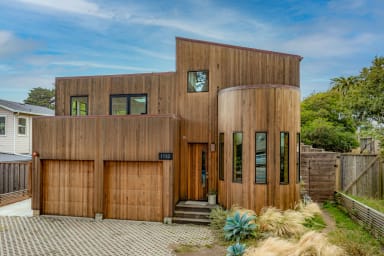 The property from the outside
Outside chairs near the hot tub, plants
Open space, table, chairs, entrance door
Open space, chairs, dinner table, chairs, inside view
Hot tub inside view, house plants
Hot tub view from the inside, house plants
Table, fridge, kitchen wear, sink, open space
Fridge, oven, sink, drawers, oepn space, table, chairs
Fridge, oven, sink, drawers, oepn space, table, chairs
Fridge, oven, sink, drawers, oepn space, table, chairs, living room view
Oven, drawers, microwave, kitchen wear
Sofa, TV, windows with outside view
Sofa, TV, windows with outside view
Bedroom 1: King size bed, paitnings, windows with outside view, lamp
Bedroom 1: King size bed, lamp, windows with outside view, painting
Bedroom 1: Kind size bed, window, lamp, window with outside view, painting
Sink, mirror, toilette, towel, drawer
Toilette, sink, drawer, shower
Open space living room, guitar
Upstairs view to entrance hall and open space
Upstairs living room, tv, sofa, paintings, windows with outside view
King size bed, drawers, lamp, plants, windows to the outside, cozy decoration
Drawers, king size bed, windows, mirror, doors
Drawers, decoration, mirror
Toilette, sink, drawers, bathtub, mirror, lamps, shower
Drawers, bathtub, shower, mirror, windows, lamps
Bathtub, shower, decoration, shower gell
Toilette, drawers, mirror, decoration, bathtub, sink
Sink, bathtub, windows, drawer
Bedroom 2: King size bed, decoration, windows, paintings
Bedroom 2: King size bed, decoration, drawers, storage room
Bathroom 2: Toilette, bathtub, mirror, windows, towels, painting
Bathroom 2: Toilette, mirror, towels, painting, drawer
Bedroom 3: two beds, paintings, windows, very cozy
Outside animal meat / vegetable griller
Laundry room, two modern washing machines, sink, laundry utensils
Microwave, vegetable oil, balsamic vinegar, drawers, oven
Kitchen wear, decoration, toaster, coffee capsules
Cups, plates, decoration, cutting board
Microwave, vegetable oil, balsamic vinegar, kitchen wear, towels, gloves, oven
Oven, vegetable oil, balsamic vinegar, microwave, cutlery, kitchen wear
Coffee machine, coffe capsules, toaster, cutting board, painting
Drawer with kitchen wear, measuring cups
Wine glasses, normal glasses, jugs, cups
Drawers, books, paintings, plants, decoration
The Space
Accommodates: 10
Bedrooms: 4
Bathrooms: 3
Property Type: House
Check-in: 16:00
Check-out: 11:00
---
Amenities
Cleaning and disinfection

Contactless check-in and check-out

Extra pillows and blankets

Long Term Rentals Available

Suitable for children (2+ years old)

Suitable for infants (under 2 years)
Reviews
John M.

What a great place!

Absolute lovely home in a great location. Architecture and woodwork is exquisite. Location is just a short drive to all that half Moon Bay has to offer. If in the area, I highly recommend staying here. You will not be disappointed.

November 2022

---

Theresa C.

Magic Montara in this Gem of a home

Spectacular stay in this unique and lovely home. Exactly what our family needed to enjoy the days leading up to our daughter's wedding nearby. Andreia is a kind and responsive host, she clearly wants her guests to love her home as much as she does. We surely do! The location in a quiet neighborhood between Pacifica and Half Moon Bay offered us the balance of calm and beauty - the beach is two minutes away- with all grocery stores, cafes, etc also close by. The best of both worlds. Thank you, Andreia, we miss waking up to your fabulous tree which graces the front of the home and can be seen from nearly every window.

October 2022

---

Melanie H. (

United States

)

Oasis in the Mountains

Beautifully maintained house with simplistic elegance!

October 2022

---

Erica C.

MUST STAY! Calm and Clean Getaway

Absolutely loved my time here! As clean, spacious and beautiful as advertised- my guests loved it and the space was perfect for a calm/quiet retreat. Also love the layout - adds to the spaciousness as some guests may sleep while others enjoy time in either TV room. A quaint castle by the coast! I will definitely come back and refer to friends/family.

October 2022

---

Anastasia B.

Great experience

The house was awesome! So clean, stylish and comfortable. The location is the best. There were few things: hot tub smelled dump, as well as the master bathroom. It seems that the bed linens in one of the bedrooms were not changed because they smelled weird. Overall the stay was great: clean, well stocked kitchen, comfortable beds. Would stay there again and recommend my friends.

September 2022

---
FREE HIGH SPEED WiFi
When you stay with us, your high speed reliable internet is complimentary.
FAMILY FRIENDLY
Cribs and pull-out cots available upon request.
WEDDINGS & EVENTS
Personal, customizable weddings & events in premier locations.
PET-FRIENDLY PROPERTIES
Pet-friendly properties, rooms and common areas.
---