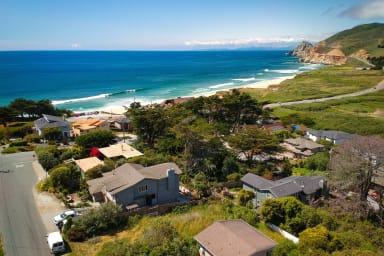 Stunning Oceanview Coastal Home – Beach, Trails, Family Activities
House in Montara, San Francisco
---
1-4

People

1

Bedroom

1

Bathroom

600ft²
Nestled conveniently next San Francisco, San Mateo, Half Moon Bay and next to one of the largest undeveloped pieces of land in the area.
Your own private coastal house situated on an oversized lot with all the essentials, nestled conveniently next San Francisco, San Mateo, Half Moon Bay and next to one of the largest protected pieces of land in the area. Stunning filtered views of the Golden Gate National Recreation Area, Montara State Mountain, Montara Beach and the Pacifica Ocean. Between the Montara Mountains and Montara State Beach there is over 10,000 acres of open space to roam around this secluded private beach house. Everything in Montara is within walking or biking distance. Wake up to the fresh ocean air and sight and sounds of the Pacific Ocean roaring in the background. Experience the awe-inspiring views of the sun rise over the majestic mountains filled with coastal cypress and rare grasslands. Watch the sunset in Silicon Valley's own hidden paradise. Guest will enjoy the privacy of being the only residence on the premises, situated on an oversized lot.
• Beaches are open for guest staying at the house along with local open spaces and trails.
• Local restaurants are open, offering take-out and have limited open patio dining.
• Quick walk to and explore the golden sand and stunning sculpted sandstone cliffs at Montara State Beach.
• Access the amazing trails in the Golden Gate National Recreation Area & McNee Ranch State Park.
• Visit the Point Montara Lighthouse
• Beaches, Surfing, Biking, Hiking trails & Grocery Stores all near by.
• Expansive Ocean & Mountain Views
• Watch Surfers & Whales
• Situated on an over-sized lot with excellent privacy
• Close to SFO, Close to San Francisco, Close to Half Moon Bay
• Full kitchen, Washer/Dryer, Internet Streaming TV
• Private parking on property
• Premium High Speed WiFi
• Uber is Easy and Convenient
• Free Parking on Property
PETS: Pets are not allowed on the property without prior approval. Pets absolutely cannot be left unattended at the property. Pet fees and deposits may be required. Breaking this rule will result in immediate eviction.
CERTIFIED PROFESSIONAL CLEANING : The Stunning Oceanview Coastal Home enhanced professional cleaning and sanitation process has been certified to minimize the spread of harmful pathogens. Our cleaners have expert-backed training on disinfecting, PPE, and current cleaning protocols. The property has received a cleaning certificate and I.D. which provides guests with verification that our properties are up to date on critical cleaning method guidelines from WHO, CDC, OSHA, and the FDA. #p1p211dh
Copyright © The Wave Houses. All rights reserved.
+ More
Less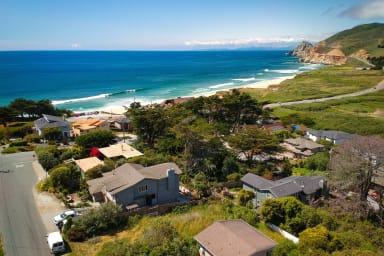 Private beach house overlooking the ocean, beach and mountain.
Golden Sand of Montara State Beach
Beautiful ocean surrounding
Comfortable small coastal town near the big city
Quite neighbourhood surrounding the house
Outstanding calm and serene surroundings
TV, sofa, paintings, plants, decoration
TV, sofa, kitchen view, open space, decoration, paintings
Bedroom open space, sofa, king size bed, paintings, windows, chairs
Bedroom open space, kitchen view, counter, chairs, fridge, drawers, decoration
Bedroom open space, sofa bed, paintings, windows to the outside
Bedroom open space, sofa bed, bed, windows, paintings, decoration, lamp
Windows with view to the outside, ocean view
Kitchen, oven, microwave, kitchen wear, dish washer, cutting board, drawers
Fridge, drawers, oven, microwave, dish washer, windows , cutting board
Drawers, oven, microwave, firdge, dish washer, kitchen wear
Toilette, drawers, sink, hand soap
Shower, toilette, sink, drawers, windows, mirror
Additional third mattress bed (if needed)
Seal Cove Cypress Tree Tunnel
Montara State Marine Reserve
Whale migration California Coast
Spectacular sight not duplicated anywhere in the Golden Gate National Parks.
The dramatic ascent of Montara Mountain, from the sea level to 2,000 feet.
Moss Beach Distillery Restuarant. Seal Cove Beach
Drip Coffee Maker, Hot Water Maker, Toaster
Drawer with cooking pans and pots
The Space
Accommodates: 1-4
Bedrooms: 1
Bathrooms: 1
Property Type: House
Check-in: 16:00
Check-out: 11:00
---
Amenities
Cleaning and disinfection

Contactless check-in and check-out

Extra pillows and blankets

Laptop Friendly Workspace

Long Term Rentals Available

Suitable for children (2+ years old)

Suitable for infants (under 2 years)
Reviews
Sebastian S.

Great place for a quick getaway

I took my wife on a trip out to the West Coast for an anniversary, this place provided exactly what we needed as a base camp to explore the Bay Area

October 2022

---

Conner C.

A great place to relax!

A great place to rest and relax! A clean and comfortable stay indeed.

October 2022

---

Mayra V.

Great stay, just what I needed!

The perfect getaway for a relaxed weekend

September 2022

---

Amber B.

Great stay

We loved it, and I would definitely come back

September 2022

---

Moon V.

I plan to make this a yearly trip

I will be back, I've fallen in love with Montara and with Andreia's little studio! I will be a regular!

March 2021

---

Phoenix S.

Thank you

Felt really good to get away for a few days and be near the ocean. The space was clean and comfortable for both me and my dog Wizard!

February 2021

---

Jennifer B.

Cute place

Outside was a little unpleasant but what matters most the inside was very nice. Neighbor was sawing and burning things a little late, other than that you can hear the ocean, which is amazing. Short walk to a small beach area. Overall great experience!

January 2021

---

Camille M.

Great place in Montara!

Love the views and coziness, everything was clean and functional. Great and fast wifi, easy communication with the host, very enjoyable overall.

December 2020

---

Maureen C.

Lovely!

Lovely place.. perfect for one or two people. Montara beach is my favorite - I live in the East Bay and come here a lot. This time was amazing because I saw one of the most beautiful sunsets ever, and went down early and saw the full moon rise. Never have seen before over the ocean. The weather was amazing . The place is nice, clean, and has everything needed. Beautiful view and nice sunshine through the kitchen windows .. I would love to stay here again... please note there are stairs right as you walk in. It was no problem for me, I just wasn't expecting it. Maybe I missed it in the description. Thanks !!

December 2020

---

Rebecca L.

Perfect Montara spot!

We absolutely loved our stay. It was so easy, clean, and lovely. Close to the beach and everything you need! Only comment is that the wifi was not working well. Thank you so much!! Would definitely come back!

October 2020

---

Dip G.

Montara Beach Studio Stay

Stayed for one night and we had a blast! Completely private and very easy stay, everything was available for our stay. Make sure you bring water! Bed, TV, all the fixings was there. I can't wait to stay there again. A staycation / vacation home is perfect for a couple.

September 2020

---

Jaime W.

Great stay!!

Super clean!! Amazing location!!! Awesome trip all around!!

September 2020

---

Mimi P.

Great Beach Studio!

Highly recommend staying at this Beach studio in Montara! It is walking distance from Montara State Beach and driving distance to Pacifica and Half Moon Bay.

September 2020

---

Romanna R.

Great location!

Great home with all the things you need in an unbeatable location!

August 2020

---

Alejandra H.

Zen Home

We enjoyed our stay so much we wanted to move in :). The studio is sunny, impeccable, with nice furnishings, a great kitchen, and a little peek of the ocean. I sat by that window reading a book with a coffee all morning. 2 blocks from the beautiful Montara Beach. We will be back!

May 2020

---

David B.

Weekend in Montara

Nicely renovated and comfortable. The bed was more comfortable than home! Everything we needed was there including good WiFi. A TV would have been a nice addition, as well as a lighted address sign to help people find the place in the dark. Other than that, this place was spectacular.

March 2020

---
FREE HIGH SPEED WiFi
When you stay with us, your high speed reliable internet is complimentary.
FAMILY FRIENDLY
Cribs and pull-out cots available upon request.
WEDDINGS & EVENTS
Personal, customizable weddings & events in premier locations.
PET-FRIENDLY PROPERTIES
Pet-friendly properties, rooms and common areas.
---