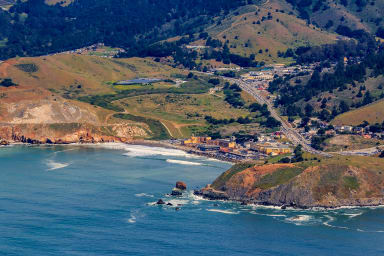 Pacifica Ocean Entire Home - near Half Moon Bay, San Francisco & (SFO)
Apartment in Pacifica, San Francisco
---
6

People

2

Bedrooms

1

Bathroom

1100ft²
An ideal destination for special occasion, family vacation or business trips and only a short drive to local state beaches, world-class golf, beaches, hiking and biking trails, award-winning restaurants, family entertainment, Close to (SFO) International airport, San Francisco Zoo, downtown San Francisco and many other coastal adventures.
Enjoy a relaxing stay with friends and family in a top-rated 2-bedroom, 1-bath home located in a safe, family-friendly neighborhood near San Francisco and Half Moon Bay. This home is perfect for special occasions, family vacations, or business trips, and it's just a short drive to local state beaches, world-class golf courses, hiking and biking trails, award-winning restaurants, and family entertainment. The house offers a range of amenities, including a fully stocked kitchen, internet streaming TV, reliable high-speed WiFi, private garage parking, and laundry facilities. Uber is easily accessible, and there is also free private parking available.
In the local area, guests have access to open beaches, trails, and open spaces. Local restaurants are open for take-out and patio dining. Explore the beautiful sandy beaches and stunning cliffs at Pedro Point and Pacifica State Beach. The Golden Gate National Recreation Area and McNee Ranch State Park offer fantastic trails to explore, including the Devil's Slide Trail, a 1.3-mile multi-use trail with breathtaking views of the Pacific Ocean. Nearby, you'll find beaches, surfing spots, biking and hiking trails, as well as grocery stores. Don't miss the opportunity to watch surfers, whales, and marine life at the Pacifica State Beach.
The location of the house is also convenient for visiting Half Moon Bay, San Francisco, and the SFO International Airport. Uber and Lyft are readily available for transportation.
To ensure the safety of guests, the Pacifica ocean retreat home follows strict COVID-19 cleaning protocols. The property has been certified for enhanced cleaning and sanitation, adhering to guidelines from reputable organizations such as the WHO, CDC, OSHA, and the FDA.
HOUSE AMENITIES
• Entire Private Home and Garage.
• Second Story has Two Bedrooms and One Bath.
• Open Dining Room Area
• Well Stocked Kitchen with Appliances
• Internet Streaming TV
• Premium High Speed Reliable WiFi
• Private Garage Parking
• Washer & Dryer
• Uber is Easy and Convenient
• Free Private Parking
LOCAL AMENITIES
• Beaches are open for guest staying at the house along with local open spaces and trails.
• Local restaurants are open, offering take-out and have open patio dining.
• Explore the golden sand and stunning cliffs at Pedro Point and Pacifica State Beach.
• Access the amazing trails in the Golden Gate National Recreation Area & McNee Ranch State Park. Explore the Devil's Slide Trail a 1.3-mile multi-use trail, converted from a former segment of Highway 1, that gives hikers, runners, bicyclists and equestrians access the rocky heights of Devil's Slide above the Pacific Ocean.
• Beaches, Surfing, Biking, Hiking trails & Grocery Stores all nearby.
• Watch Surfers, Whales, and Marine life at the Pacifica State Beach
• Close to Half Moon Bay, San Francisco, and SFO International Airport
• Uber & Lyft is easy and convenient
CERTIFIED PROFESSIONAL CLEANING : The Pacifica Ocean Entire Home enhanced professional cleaning and sanitation process has been certified to minimize the spread of harmful pathogens. Our cleaners have expert-backed training on disinfecting, PPE, and current cleaning protocols. The property has received a cleaning certificate and I.D. which provides guests with verification that our properties are up to date on critical cleaning method guidelines from WHO, CDC, OSHA, and the FDA. #p1p211dh
Copyright © The Wave Houses. All rights reserved.
+ More
Less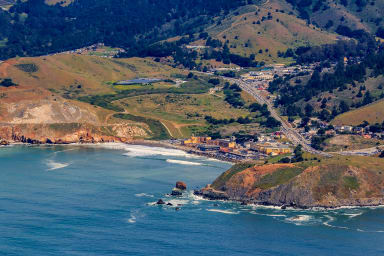 Fridge, cutlery, toaster, oven, coffee, window view
Sofa, Chairs, Fireplace, desk, hanger, entrance
Fridge, oven, toaster, sink, kitchen wear, drawers, microwave
Toaster, Coffee, Olive Oil
The Space
Accommodates: 6
Bedrooms: 2
Bathrooms: 1
Property Type: Apartment
Check-in: 16:00
Check-out: 11:00
---
Amenities
Cleaning and disinfection

Contactless check-in and check-out

Laptop Friendly Workspace

Long Term Rentals Available

Suitable for children (2+ years old)

Suitable for infants (under 2 years)
Reviews
Merri N.

Fine for a week-long stay

We stayed here for a family reunion, and it was an ideal location for us as it was very near other relatives. The house is fully-stocked with two comfortable beds, gas stove, and washer/dryer. It was great for 3 people for a week but would have been too tight for more than that to stay there that long. The kitchen cabinets, other than the lowest, and microwave are difficult for a short person to reach, but the kitchen contains everything one needs, and we were easily able to cook and bake. As other guests have noted, while the garage is double wide, the post down the middle makes it tight to pull into the one available spot (the other side has the washing machine and dryer), but it is doable, or you can park at an angle in front of the garage. Manor Plaza, with a Safeway, Walgreens, specialty stores and fun restaurants is less than a mile away, as is Mazzetti's Bakery for a special treat, but would not advise walking if grocery shopping as it is a very steep climb back. Easy drive to ocean, or even walk if you're prepared to walk back up hills. Check-in and out was seamless, and the host Sarah was extremely responsive to our questions. Note: this is a corporate-owned rental.

October 2022

---
FREE HIGH SPEED WiFi
When you stay with us, your high speed reliable internet is complimentary.
FAMILY FRIENDLY
Cribs and pull-out cots available upon request.
WEDDINGS & EVENTS
Personal, customizable weddings & events in premier locations.
PET-FRIENDLY PROPERTIES
Pet-friendly properties, rooms and common areas.
---